Ministry Team


​Priest: Rev. Evelyn Knorr

The Rev. Evelyn Knorr was ordained to the deaconate on December 6th, 2001.

Her first parish was in PEI and the most recent being the Parish of Strait Chedabucto.

Her years of study and parish ministry have been filled with both joy and many grace filled moments.

She would never have been able to do all that she has done, without the unending support of husband Bazil, who passed away November 20, 2016 after a two year battle with cancer. Basil's love of cooking has been passed on to both of their sons, Bryan (married to Sancia, grandchildren Lilli and Brayden) of Eastern Passage and Jamie (married to Angela) of Cole Harbour (Jamie and Angela are professional chefs).

Rev Evelyn's puppy, Callie, has regularly attended church and parish meetings, and may soon be making

visits with her to shut ins and nursing homes.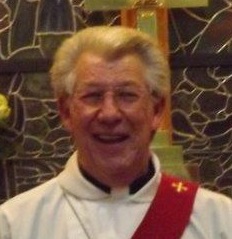 Associate Priest: Rev. Fred Grainger

Fred is our Assistant Priest and has served the parish for over 30 years.

Not only does Fred serve his church but he is also an active member throughout the community serving as President of the Minor Ball Association in Lake Echo. He is also a founding member of a Barbershop Quartet in Lake Echo. His passions also include hockey, golf, and baseball.