Who We Are


Welcome!
The Parish of Seaforth consists of five Anglican churches, andis one parish. The service times vary from church to church, so please check our schedule found on our website. Sunday School is also offered at several of the churches. The Book of Common Prayer is widely used throughout the Parish, amplified with occasional use of the Book of Alternative Services.

Each church has its proud history and character; and they offer a friendly and genuine Maritime welcome to newcomers and visitors: Anglicans, those of other traditions, or those of no church affiliation. The youth, especially, are valued not only as the Church present, but also as the Church future, and as such are supported in various ways. The Parish of Seaforth invites you to attend a service in a church near you, or contact the Rector for more information. We look forward to meeting you and welcoming you into an active and caring Christian community!
Ministry Team

Priest-in-charge: Rev. Captain Bruce Murray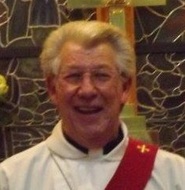 Assistant Priest:

Rev. Fred Grainger
Fred is our parish Assistant Priest and has served the parish for over 30 years.
Not only does Fred serve his church but he is also an active member throughout the community serving as President of the Minor Ball Association in Lake Echo. He is also a founding member of a Barbershop Quartet in Lake Echo. His passions also include hockey, golf, and baseball.